Despite calls for La Nina, which could mean less snow for parts of the US, the 2016-2017 ski season has gotten off to a great start with many mountain resorts, particularly in the Rockies, picking up ample snow and opening on time or ahead of schedule. And more snow is on the way.
In deciding who made our list of Best Ski Towns in the U.S. it came down to two factors—town and ski mountain. Not every great ski mountain in the U.S. is in a town worth visiting outside of the alpine draw, while not every great mountain town has a great ski area nearby. In our case, both had to be in the upper echelon, with certain factors like authenticity and dining options (for the towns) and snowfall amount and skiable terrain (for their respective ski mountains). Here's our list:
Truckee, CA
On the north side of Lake Tahioe, Squaw Valley Alpine Meadows, with an elevation of 9,050 feet at the top and 6,200 at it's base, is high enough to see plenty of snow. In fact, In fact, in good years, the Lake Tahoe ski resorts routinely see more snow than any other resort in the lower 48 states. Squaw Valley is the number one choice of most skiers staying in Truckee.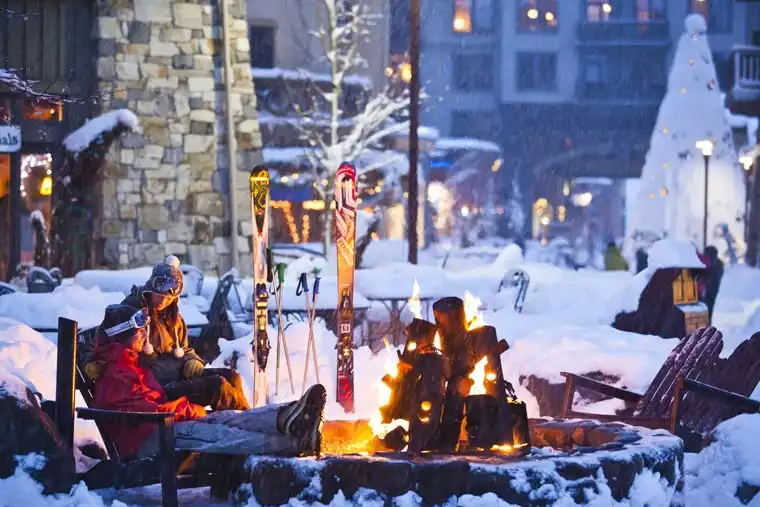 How to get there: Squaw Valley is a 3 hour drive from San Francisco (SFO) and Oakland (OAK) airports which offers nonstop service from most major airports. For a shorter drive, you can fly into Sacramento (1.5 hours) or Reno (1.5 hours) but there are fewer flights.
Mountain Stats:
Elevation: 9050 peak, 6200 base
Lifts: 29 (including 110 person aerial tram and 28 person gondola)
Trails: 170-plus,
Bowls: 16
Avg Annual Snow: 450 Inches
Total Acreage: 3600
Telluride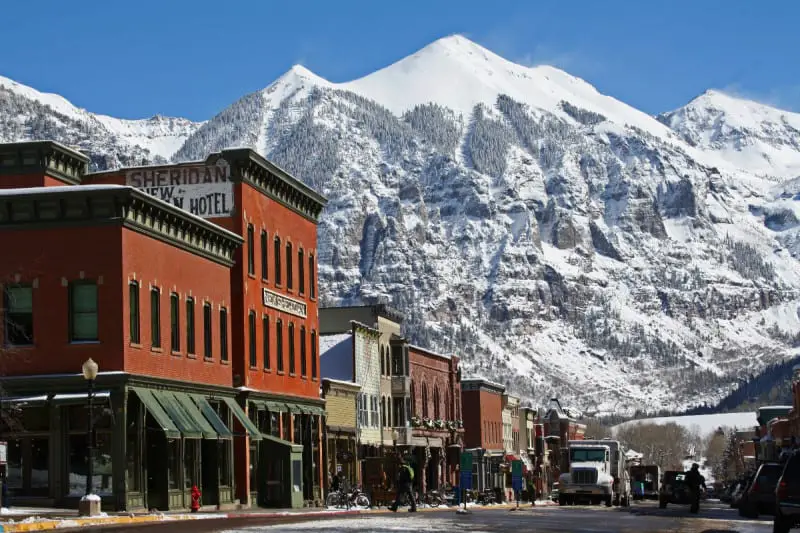 While Telluride draws comparisons to Aspen and Vail because of luxury lodging options and random celebrity sightings, don't assume you've been priced out and that the slopes are packed. Locals believe the name is a play on the words "to hell you ride" in recognition of Butch Cassidy who robbed his first bank here in 1889. You're in for a helluva ride at Telluride and Mountain Village, the resort area midway up the mountain. Both offer numerous runs and thousands of acres of terrain.
Technically two separate towns, Telluride and Mountain Village are commonly spoken of as one spot and part of the reason is the ease of travel between the two. Situated at the base of the canyon, Telluride is a historic eight-block town while Mountain Village is more European in flavor, with numerous hotels, restaurants and shops. The 13-minute gondola ride between the two is a scenic experience that locals and tourists complete multiple times a day and beyond the views, the best aspect is it's free. Environmentalists delight that the gondola transports guests via wind power.
This ease of access offers guests plenty of options when it comes to lodging. In Mountain Village you can choose from a number of boutique hotels. Lumiere is a 28-room residence/hotel property that opened in 2008 and offers ski-in/ski-out access along with majestic views of the mountain ranges. The 95-room Capella Telluride has attracted plenty of attention since its opening in 2009. Just a short walk from one of the lifts and the gondola, the hotel has many amenities including personal assistants for each guest. In Telluride, stay at the 26-room New Sheridan Hotel. The establishment underwent an extensive, eight-month renovation in 2010 that resulted in a wide range of luxury upgrades while staying true to the property's 117-year history. The hotel is a social hub and houses two of the top places for dinner and a drink in the form of the Chop House restaurant and the New Sheridan Bar.
While some ski resorts cater to either the beginner or advanced skier, Telluride offers something for all levels including those that want a little adventure but aren't ready to jump off a vertical cliff. Last year saw the addition of Palmyra Peak and Revelation Bowl for thrill seekers, while beginners and cross-country enthusiasts can ski for days on more than 2,000 acres of backcountry powder-packed lanes.
How to get there: Telluride is served via Montrose Regional Airport which offers nonstop service from Atlanta, Chicago, Dallas/Ft. Worth, Denver, Houston, Los Angeles, Salt Lake City and Newark.
Mountain Stats:
Elevation: 12570 peak (lift served), 8725 base
Lifts: 18 (including 2 gondolas)
Trails: 127
Avg Annual Snow: 309 Inches
Total Acreage: 2000
Crested Butte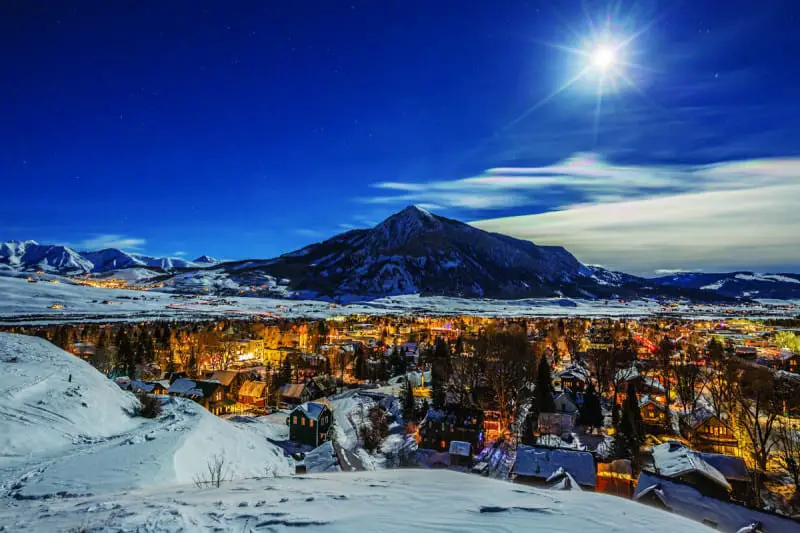 If you're looking for an off-the-beaten track ski experience with plenty of jaw-dropping, powder-packed, double black diamond runs, then Crested Butte may be for you. With more than 500 acres of lift-served, intense vertical routes, Butte is an extreme skiing mecca (it plays host to the Extreme Skiing Championships every February). But if jumping off a cliff with your K2s attached isn't your idea of a fun weekend, Crested Butte has plenty of less death-defying slopes.
One of the newer ways to hit the slopes here is via snow cat, large vehicles typically used for snow grooming. CS Irwin, a local company, shuttles guests daily to nearby Irwin where groups travel up the mountain in a high-speed Prinoth Bison Cat with a custom cabin—heated, leather seats, etc.—built for skiers. Once on the mountain, skiers have the chance to carve out their own path on acres of open terrain.
While skiing is what people come for and takes up the better part of the day, at night there are plenty of local watering holes to share your wipeouts and glorious runs down the mountain. Locals flock to Eldo Bar, at which you can try out some craft brews from Eldo Brewery, and Kochevars, the oldest saloon in town, with dart boards and an old-fashioned coal stove. One thing you won't see around town are chain restaurants and shops, as Crested Butte is listed as a National Historic District. Locals have kept a tight grip on expansion.
How to get there: Crested Butte is served via Gunnison/Crested Butte Airport, which offers non-stop service from Dallas/Ft. Worth, Denver and Houston. Montrose Regional Airport is a one-and-a-half-hour drive and offers direct service from eight major cities.
Mountain Stats:
Elevation: 12162 peak (lift served), 9375 base
Lifts: 16
Trails: 127
Avg Annual Snow: 309 Inches
Total Acreage: 1547
Steamboat Springs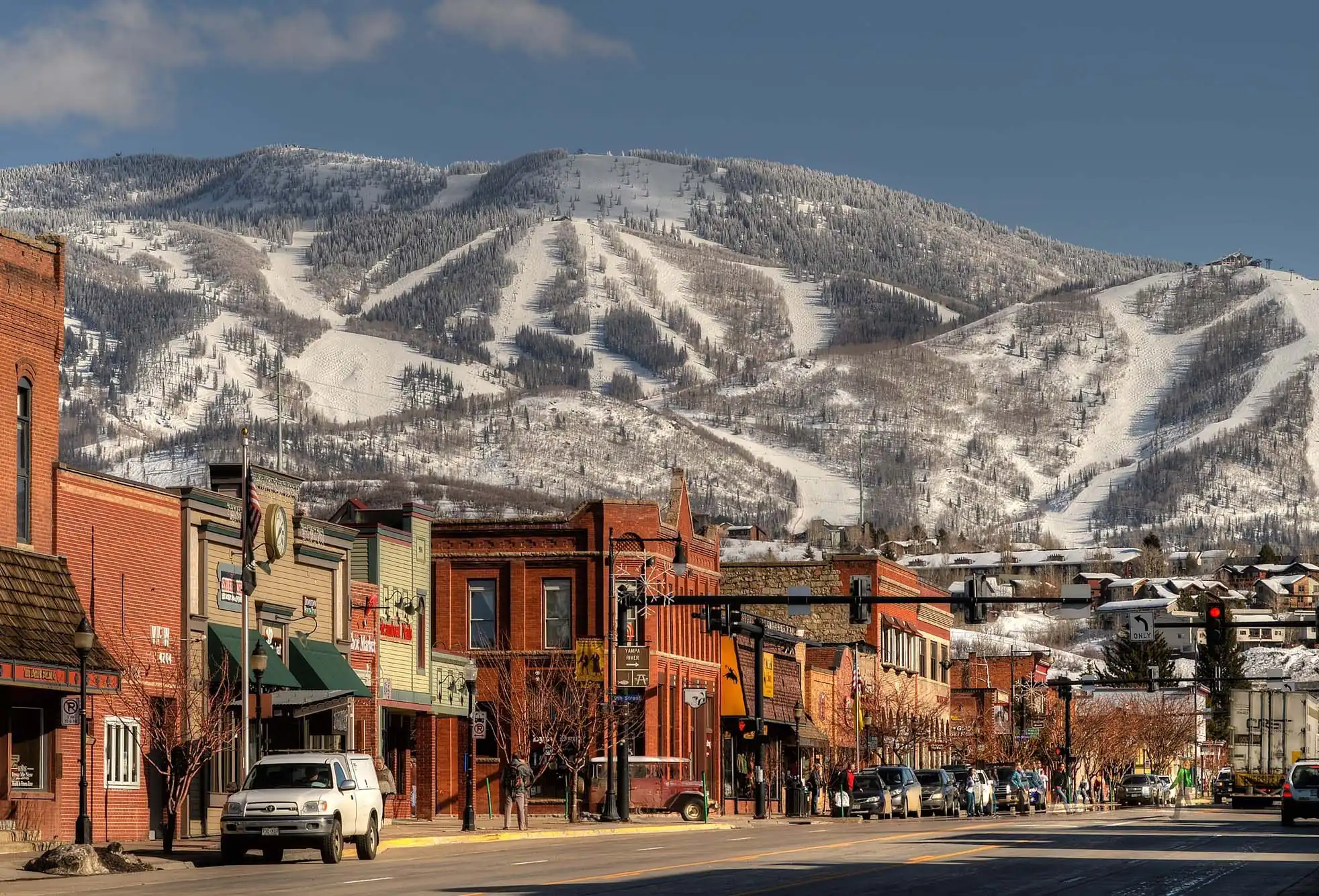 Photo: Larry Pierce/Steamboat Ski Resort
When your slogan is "Ski Town USA" you better have the slopes to back it up and for the most part, Steamboat Springs' 3,000 acres of runs hold their own against any other Colorado ski resort. While it may not have the flashiest new resort or highest elevation, the one major attraction for skiers is the signature champagne powder© (yes, they have a copyright on the term). It's the powder and the variety of runs that not only attract thousands of weekend skiers but also nearly 80 current and former Olympic athletes who call Steamboat home. Among the most famous is World Champion and Olympic silver medalist Billy Kidd, who, on most days, can be found carving a hillside with his signature white cowboy hat, offering impromptu lessons for beginners.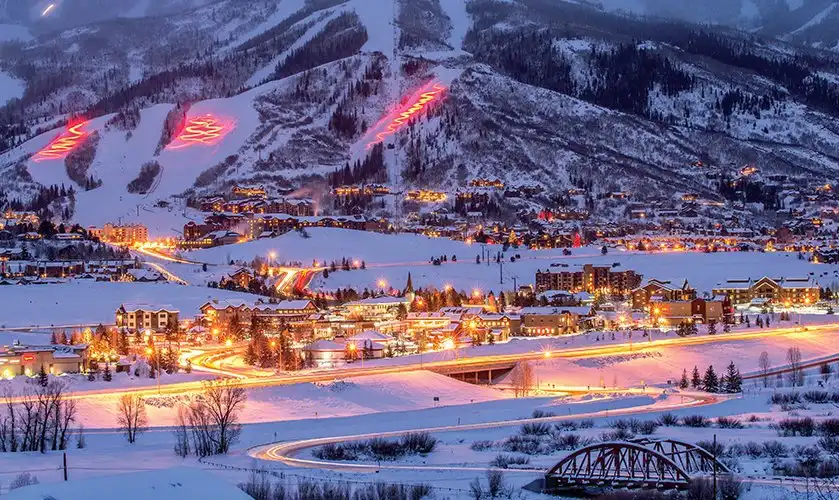 For you apres ski revelers, head to the Umbrella Bar at the Bear River Bar & Grill that is situated at the gondola-base area. The new bar joins more than 100 drinking and dining spots in the Steamboat area. Hazie and Ragnar's restaurant attract the majority of attention, mostly due to their location. Accessible only via gondola, both restaurants offer unparalleled views of the Yampa Valley from the top of the mountain. While these are great options for romantic evenings, after a long day on the slopes a good beer is a perfect cure for sore muscles. Head to Mahogany Ridge Brewery and Grill, a local microbrewery, along Lincoln Avenue in the heart of town.
How to get there: Steamboat is served via Steamboat/Hayden Airport, which offers nonstop flights from Atlanta, Chicago, Dallas/Ft. Worth, Denver, Houston, Minneapolis/St. Paul and Newark.
Park City, UT
Jackson Hole, WY
Stowe, VT