New York is never short of professional sports team to watch on TV, with more professional sports teams (Giants, Jets, Yankees, Mets, Rangers, Islanders, Knicks, Nets) than any other city. Add to that major golf and tennis tournaments, College Football, College Basketball, World Cup soccer, The Olympics, boxing and virtually any other sporting event with a Neilson rating above 1 and you'll likely find it at any decent New York City sports bar.     
So if you're in New York City, you like sports and you have a few hours to kill, here are five sports-geared watering holes in NYC worth visiting:
The place has 43 flat screen TVs — to miss a play at The Royal would be 1) understandably frustrating and 2) downright miraculous.
"What we are trying to convey every day, what we work really hard to do," says owner Daniel Rieger, "is to be just a really fun place where no one ever feels uncomfortable. The whole point with our DJs and our staff, even the decorations, is to have a really good, fun, relaxed time."
Straddling the vibrant Gramercy and Union Square neighborhoods in Manhattan and still managing to be entirely unpretentious, The Royal splays the good cheer across 2400 square feet. Patrons can pony up to the bar, camp out in a booth, lord over the crowd on high-top stools, or ring a table while enjoying the Super Bowl-ready finger-food — we recommend the Grilled Wings — whipped up by Executive Chef Daniel Parilla.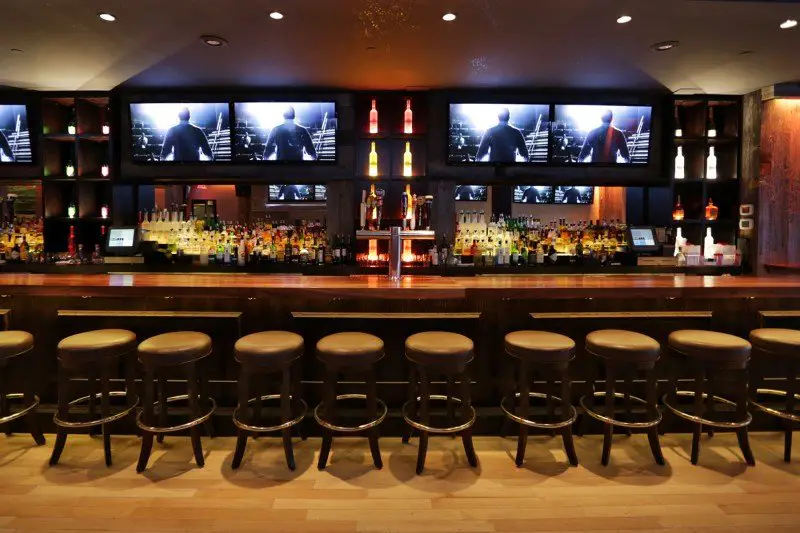 This isn't your dad's old fashioned sports dive. This bar has beautiful wood decor, sleek countertops and a long bar as you enter separated by an equally as long communal seating area and, in understated yet strategic fashion, a dozen flat-screen TVs. As for cuisine, Grey Bar features an adventurous array of bar food including shrimp-and-andouille thin-crust pizza, barley risotto and diver scallops. For lighter fare, order the the seared Ahi Tuna – sliced rare with sesame cucumber noodles, ginger soy vinaigrette and avocado.
So what's so great about this newest face in TriBeCa?
"Oo! Well, I'll start with our staff, first and foremost," beams Star Putnik, the effervescent Sales and Events Coordinator. We have a great staff, and when you come here, it's kind of like a 'Cheers' bar; you've got familiar faces, great drink specials, great food, great atmosphere. It's just a really great place to hang out on a lazy Sunday and watch the game."
There's a good chance the World Series or Super Bowl Sunday for that matter will be anything but "lazy," and Putnik and Co. are more than ready. Of course, the five 70-inch flat screen TVs and the 80-incher in the back will probably go a long way in keeping the fans in their seats, but the locally-sourced menu, dashed with such trendy entries like Sriracha Shrimp and Truffle Burgers, is guaranteed to put even the most ardent fan into a contented food coma.
NYC tailgaters beware: The Chester throws no ordinary Super Bowl party. From the wings (drool!) to the 16 HD TVs (sweet!), this oh-so-trendy watering hole in the oh-so-trendy Gansevoort Hotel, patrons get a taste of what may be the chicest gridiron, confab in town. Located in the Meatpacking District, it goes without saying this place knows a little sumpthin' about pigskin.
"Guests will be treated to the perfect all around tailgating experience, but without the cold!" promises Brian Mazza, VP of Paige Hospitality Group, which oversees the Chester's relaxed elegance. "Our chef Stephen Yen puts a delicious twist on contemporary tailgating cuisine, including our famous Candied Bacon."
Football. Bacon. Talk about knowing your audience.
The space promises all the World Series, Super Bowl party perks without all the pushing, shoving (but probably all the swearing) of a classic tailgate. A darling with the critics, The Chester charms by being open, airy, and whose warm wood and olive leather is touched off with classically "New York" touches like the antique NYC Subway tiles lining the walls.
But to be honest, they had us at "bacon."
The Grayson is well endowed technologically, with 45 HD TVs—including 9 laser projectors—making it a great place to see a game. This Lower East Side fan favorite also boasts an extensive beer menu with over 40 beers, 20 drafts and 20 bottles, a well-crafted cocktail menu, an impressive list of fine wines, and full food menu ranging from top notch casual pub fare to delectable fine dining options. The Grayson serves brunch, lunch and dinner, offers daily specials and is "Home of the $2 Mimosa."