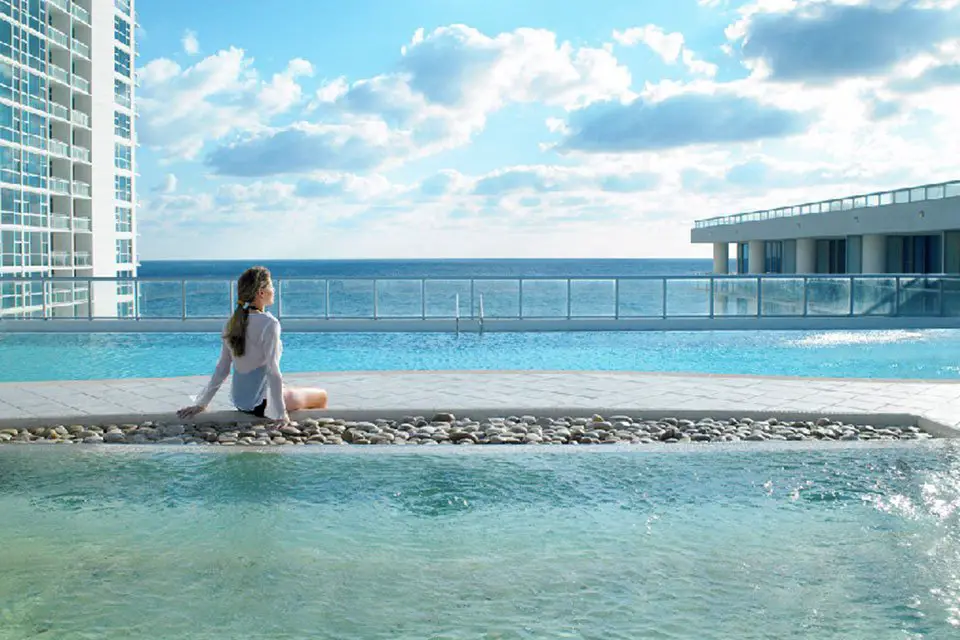 For many, Miami is simply synonymous with the party scene. The very idea of a getaway to this fabled city conjures up images of a Kardashian takeover, a young Will Smith rapping to bikini-clad models on sandy shores, and raucous nights at the Fontainebleau's ever-hyped LIV. And while you can certainly find it around every corner if you're looking for a bit of well-intentioned trouble, this popular quick jaunt for East Coasters can also offer up a bounty of relaxation and wellness. The trick to finding a peaceful nirvana in the Magic City? Easy; you just have to know where to look for it. And we're staring straight at you, Canyon Ranch Miami
Perched on 750 feet of gorgeous oceanfront property, Canyon Ranch Hotel & Spa in Miami Beach is much more than just your typical beach oasis. Sure, it still looks the part: Upon arrival, guests enter a softly coral-colored lobby with the fixings of a modern seascape —teakwood ceilings rise high above an abalone shell terrazzo floor, and a four-story hanging mangrove sculpture emanates the essence of fruition. Then there are the accommodations: One- and two-bedroom suites come complete with 400-thread-count Mascioni linens, granite-countered personal kitchens and Italian glass tile mosaic-walled bathrooms that house deep soaking tubs. Canyon Ranch resorts find their uniqueness, however, in that these aesthetic comforts to the eye pale in comparison to the holistic services their spa will bestow unto mind, body and spirit.
Cleanse yourself of toxins in their Aquavana thermal suite, a healing retreat that will use water and temperature to purify the body. Based off of European wellness research, this therapy operates on the principle that moving from higher to lower temperatures allows blood and lymph to pass from one area of the body to another. Navigate your way through these ethereal cabins—stare up at the starlit ceiling of the Herbal Laconium, gaze out at the ocean in the open-air Atlantic Spa, or breathe in the calming aromas of the Finnish Sauna and Crystal Steam Room. Follow up a healthy dose of heat with a cooling sensation in the Experiential Rains cabin, where you'll select among three shower varieties: Atlantic Storm, Caribbean Monsoon, or Polar Mist. If the latter is your preference, venture into the Igloo for a refreshing spritz of Artic Mist, your choice of eucalyptus, menthol or mint. If you're coping with aching muscles, take your toes for a dip in the multi-temperature Foot Spa or allow the HydroSpa's massage jets to knead out pesky pains. A soothing day in Aquavana will leave you primed for physical fitness.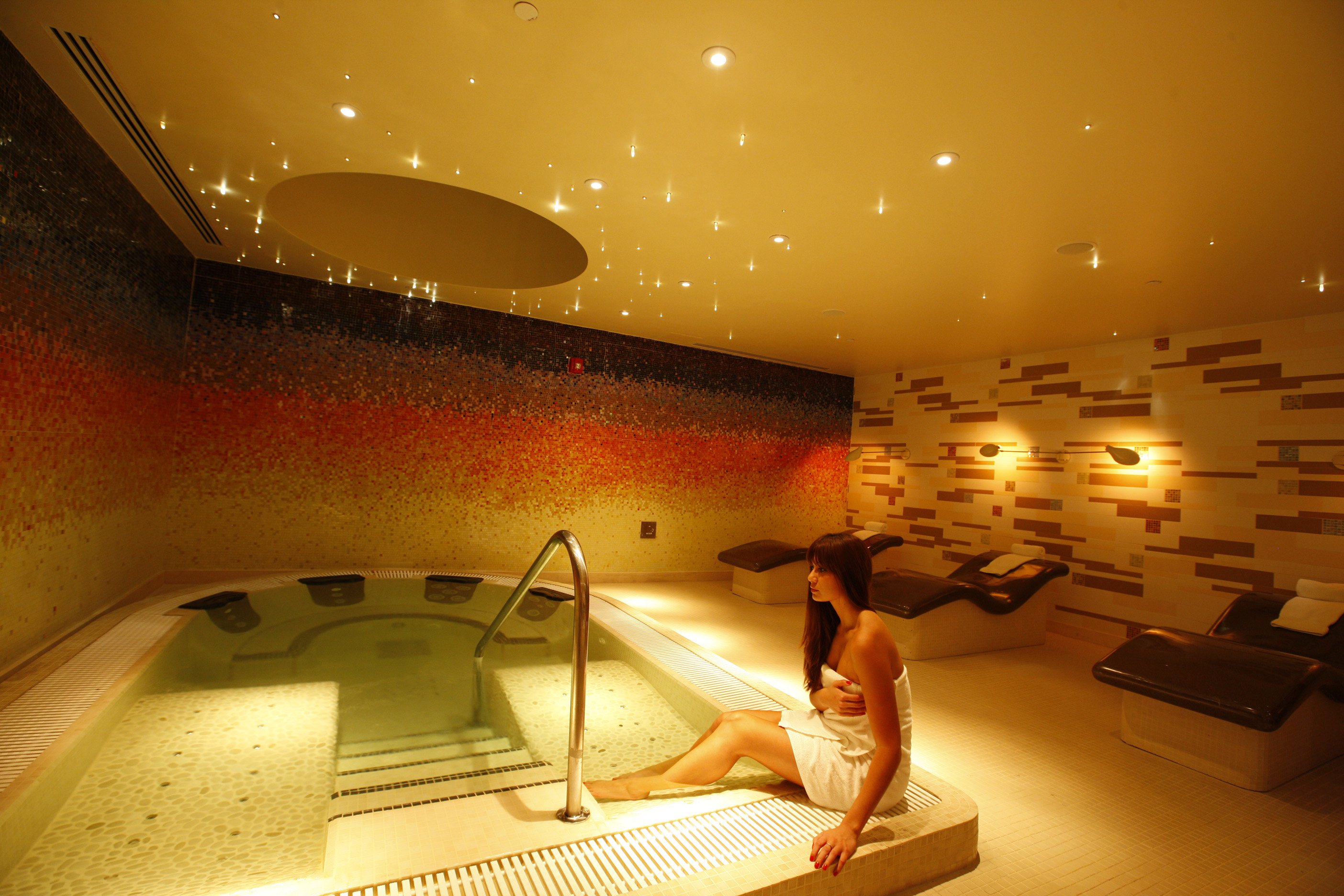 A little spa rejuvenation can go a long way, but a healthy exercise routine is what will keep you fresh, fit and full of energy in your daily life back home. Canyon Ranch's certified fitness professionals have developed rewarding classes that will reinvigorate your usual routine. In addition to a general fitness center, guests can participate in over 40 programs, including yoga, rock climbing, kinesis, boxing, qi-gong and more. You don't need to limit your physical pursuits to the structured organization of a class, either; golfing, surfing, kayaking and tennis can prove to be equally exhilarating options. Lower impact choices are also available, such as Aqua Conditioning and guided beach walks. The resort has four different pools, too—the heated adults-only Atlantic Pool, the family-friendly Cabana Pool, and the Sunrise and Sunset pools—so feel free to soak or splash around as you please.
While you're busy feeding your soul, you're going to work up a real appetite, as well. We all know that there is at times nothing more fulfilling than a hearty, mouth-watering meal, and Canyon Ranch has been sure to take that into account when they developed a menu of morsels that are as nutritionally sound as they are delicious. Executive Chef Giovanni Arias whips up guiltless seasonal fare with flourish—think avocado tartare, lobster potstickers, seared scallops with mango-coconut glaze, and pasture-raised beef tenderloin. Many options are gluten-free, but never fear if you have a hankering for carbohydrates: the hearth-fired Roman flatbreads come in varieties such as fig and maytag blue cheese and heirloom tomato, while the fresh papardelle entrée aims to impress any pasta lover with its succulent toss of porcini mushrooms and black truffles in a ricotta cream sauce. And we know we promised an escape from party paradise, but no one need turn down one of the bar's organic, health-conscious cocktails. Sip on a sweet Lychee Martini—vodka, lychee puree, fresh citrus juices and Cava Brut—or give the Perfect Ten a try: vanilla vodka, pineapple juice, Cava Brut and a splash of sparkling water. We're not sure that's a reference to your perfect 10 vacation or that awesome new perspective you've gained, but either way—we'll take it.
Valid through December 19, one-bedroom suites with ocean views are starting at $615 per night, while two-bedrooms are at $905. Book now, so when you're stressing later, you'll have this lovely beach getaway to look forward to. This holiday season, the only thing that you'll be sweating is the Florida sun and a Finnish sauna (and okay, that qi-gong class). Peace is the new party.